Anchormen Equipment's PVT LTD offers gelatin tanks, gelatin service tanks, and Gelatin Service Tank Manufacturers that are of high quality.
Anchormen Equipment is one of the leading suppliers of gelatin service tanks. A gelatin service tank is a piece of equipment used to keep gelatin mass at a safe temperature. Before being sent to the encapsulation machine, the gelatin mass is held in the gelatin service tank. This device is utilised for gelatin melting and providing in small scale soft gel manufacture and laboratory production. Inside and out, the equipment has been mirrorpolished to ensure that there is no dead angle during the cleaning operation; This machine has an electric heating pipe heating style, a digital intelligent temperature control meter for temperature management, and a sealed lid that opens quickly. The softgel encapsulation machine is supplied with gelatin using compressed air.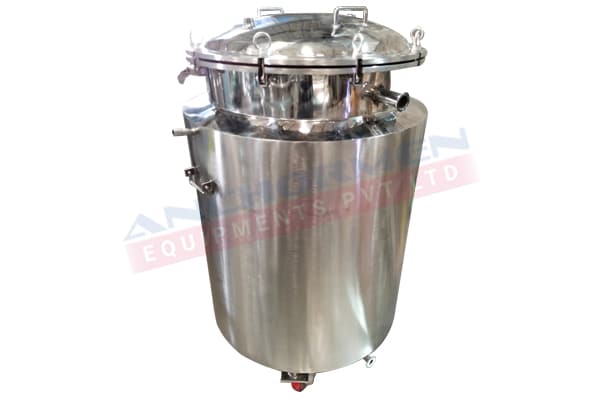 The thermal insulation layer is made of polystyrene foam, which has a good heat-insulating property and there is a fast bubble-breaking device, which is a patent product, installed on the stirring paddle to help break the bubbles that form during the gelatin melting and stirring process quickly, reducing vacuuming time and increasing production efficiency.
The bucket's bottom is equipped with interchangeable wheels, allowing it to be moved in a variety of ways. Our gelatin melting tank complies with Good manufacturing practices (GMP) guidelines. It has three layers: an interior layer, a heating jacket, and an insulation jacket, all of which are made from premium quality stainless steel. Intelligent temperature controller for electric heating. On the top of the barrel, there is also a pressure gauge, regulator, security valve, and sight glass, among other things. A drain valve is installed in the bottom of the container. Lid locking is a fast light method. Thermal insulation, safe and convenient operation, and quick cleaning are just a few of the benefits of the barrel. Thermal insulation, safe and convenient operation, and quick cleaning are just a few of the benefits of this tank which makes it unique and premium from similar manufacturing industries.