Anchormen Equipments, a leading manufacturer of high-quality Packing Conveyor Belts. We specialize in providing reliable and efficient conveyor solutions for various industries, including packaging.
Leading Packing Conveyor Belt Manufacturer in Ahmedabad
Our Packing Conveyor Belts are designed to streamline your packaging operations, ensuring smooth and efficient material handling. Whether you need to transport boxes, bags, or other packaged goods, our conveyor belts are built to deliver reliable performance.
We understand the importance of durability and reliability in conveyor systems. That's why our Packing Conveyor Belts are constructed using high-quality materials, such as stainless steel or robust polymers, to withstand the demands of continuous operation. They are designed to handle different types of packaging materials, including boxes, cartons, bottles, and more.
Our conveyor belts are equipped with features to enhance productivity and efficiency. They can be customized to fit your specific requirements, including variable speed controls, adjustable height, and reversible functionality. This ensures seamless integration into your packaging line and allows for easy synchronization with other equipment.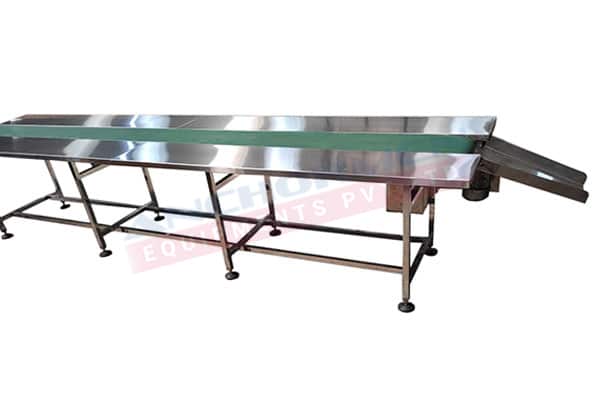 Manufacturers of Packing Conveyor Belt - Packing Belt Conveyor, Packing Conveyor offered by Anchormen Equipments Pvt. Ltd., Ahmedabad, Gujarat, we are the highest successful company.
Safety is a top priority for us. Our Packing Conveyor Belts are designed with safety features such as emergency stop buttons, guards, and sensors to ensure operator protection and prevent accidents. We comply with industry standards and regulations to provide a safe working environment for your employees.

At Anchormen Equipments, we pride ourselves on delivering high-quality products and excellent customer service. Our team of experts is committed to understanding your unique needs and providing tailored conveyor solutions that meet your specific requirements. We offer comprehensive support, including installation, training, and maintenance services, to ensure the smooth operation of your conveyor system.
Choose Anchormen Equipments as your trusted supplier for Packing Conveyor Belts. Experience the reliability, durability, and efficiency of our conveyor solutions.