Anchormen Equipments, a reputable manufacturer of high-quality pharmaceutical blenders based in Ahmedabad. With a strong dedication to innovation and customer satisfaction, Anchormen Equipments has emerged as a leading player in the pharmaceutical equipment industry.
Pharma Blender: Pharmaceutical Blender Manufacturers at best price
Our pharmaceutical blenders are designed and engineered to meet the stringent requirements of the pharmaceutical sector, ensuring seamless and efficient blending of various powders and granules. The business features cutting-edge production facilities outfitted with advanced technology and a staff of qualified experts, enabling them to make blenders that meet the highest quality requirements throughout the world.

Anchormen Equipments offers a wide range of pharmaceutical blenders, including double cone blenders, V-blenders, ribbon blenders, and paddle blenders, providing versatile options to suit diverse blending needs. Each blender is crafted with precision and high-quality materials to guarantee exceptional performance, hygiene, and durability.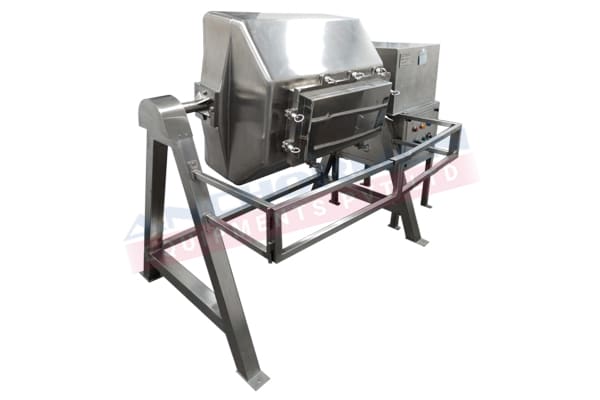 Pharmaceutical Blender Manufacturers in Ahmedabad
What sets Anchormen Equipments apart is their commitment to customization. We understand that every pharmaceutical process is unique, and thus, they offer tailor-made solutions to meet specific client requirements. This customization ensures that our pharmaceutical blenders seamlessly integrate into existing production lines, enhancing overall productivity.
To ensure the utmost quality, each pharmaceutical blender undergoes rigorous testing and inspection before leaving the manufacturing facility. Anchormen Equipments also provides comprehensive after-sales support and technical assistance, fostering long-term partnerships with clients.
With an extensive clientele both in India and abroad, Anchormen Equipments has earned a reputation for delivering reliable and efficient pharmaceutical blenders. Whether you are a small-scale pharmaceutical manufacturer or a large pharmaceutical conglomerate, Anchormen Equipments is your go-to partner for top-notch blending solutions. Trust in their expertise and experience to elevate your pharmaceutical production processes to new heights of efficiency and excellence.