We are Top of the Air Operated Sifter Manufacturer, Get the Best Price on Air Operated Sifter in Ahmedabad, India
The airflow sifter machine, made by Anchormen equipment, has a unique look that efficiently separates ultra-light materials such as Pharmaceutical Machine and Equipment Manufacturers in Ahmedabad, India products. The material is combined with the airflow going via the screw conveyer belt in the Anchormen equipment's airflow sifter machine, which itself is cylindrical and installed in the machine body. The isolated material enters the wire cylinder and is subjected to centrifugal force and cyclone propellant force through the wild turbine blade within the wire cylinder, causing the material to be sprayed through the sieve, with extra focus discharged from of the fine material discharge port and overly large material expelled from the other port.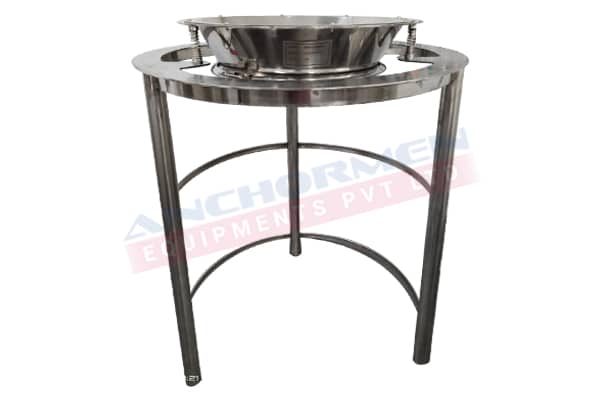 What distinguishes Anchormen equipment's sifter machine from other sifter machines are its characteristics and uniqueness, which include a small size, light weight, stability and vibration free operation, no noise, good pressurisation, no dust, and no efficiency.
The shell structure is different, installation is straightforward, and control is easy. The machine may be utilised as a single or multi-machine and can run continuously for an extended period of time. In addition, it is dependable and secure. The cyclone cleans the screen and clears the net automatically. The agglomerated substance is crushed, and a new type of outer sphere bearing is used to enhance the service life. To conserve resources, the machine made by Anchormen Equipment may be combined with a compressed air system and directly connected to the airway. At Anchormen Equipment, we strive to be creative and innovative, therefore the new designs for machineries include a gas protection system that will be able to filter the air and transmit it to both types of equipment, thereby reducing the temperature created during equipment operation. To satisfy our clients' needs and fulfil their requests, Anchormen Equipment's customises various sorts of machinery to their specifications.