We are the best POLISHING PAN (पॉलिशिंग पैन) manufacturer in India. Get Polishing Pan at the best price from POLISHING PAN Exporters.
Anchormen Equipment's polishing pan is made up of an Ellipsoidal pan mounted on an appropriate platform and operated by a motor through a suitable gearbox. The welded baffles in the pan are composed of stainless steel. This baffle aids in the tumbling of the tablet material into the pan as the pan rotates. A three-step pulley or a variable speed drive in the control panel can be used to modify the speed. Along with the polishing pan with heater assembly, there is a hot air blower and flexible Stainless-Steel tubing that enters into the pan for drying the tablets or material after polishing. A control panel is included, which has a starter or variable speed drive, as well as a digital temperature controller for temperature management. In addition to the coating pan, a spraying system is included for film coating/sugar coating of the tablets/material in the polishing pan. This comprises of a pressurised tank with sufficient volume and spray guns set on a platform. The liquid in the vessel is pressured and sprayed onto the substance to be coated in a coating pan.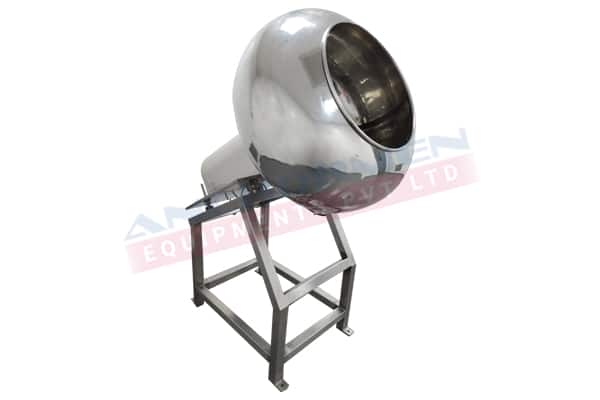 A peristaltic pump can also be used to transport the liquid to the spray cannon, which is subsequently sprayed in to pan. The use of an exhaust fan to exhaust fumes created by the spraying of liquid into the tablets/material in the Polishing pan is a possibility. The machine is designed with a fabricated structure that is equipped with a Stainless-Steel enclosure that provides a simple, cleanable outer covering and is positioned on an anti-vibration cushion. Enclosed powerful pan drive with reduction gear & variable speed pulley for motor.