Packing Conveyor Belt Manufacturers in Ahmedabad, पैकिंग कन्वेयर बेल्ट निर्माता, अहमदाबाद, Get best Packaging Conveyor Belt Price in Ahmedabad
Conveyor belts are used to transport materials from one location to another. It's also employed as a packaging conveyor for pharmaceutical and other industries' assembly lines. Anchormen manufactures packing conveyor belts. Increased volume necessitates the use of a reliable and efficient packing process. Throughput must exceed demand, downtime must be minimised, and worker safety must be a top priority. When combined with Anchormen Equipment's dependable and creative consultancy from the early concept development stage, fresh produce processors may automate all or part of their back-end operations. Using our machineries to standardise packaging lines boosts throughput, improves reliability, and prevents product damage thanks to our no-touch technology. With maximum belt widths, traditional fabric reinforced belts, steel cord belts, Kevlar belts, pipe belts, sidewall belts, heat resistant belts fitted, and many more goods in our enormous basket, we have the greatest choice in the business.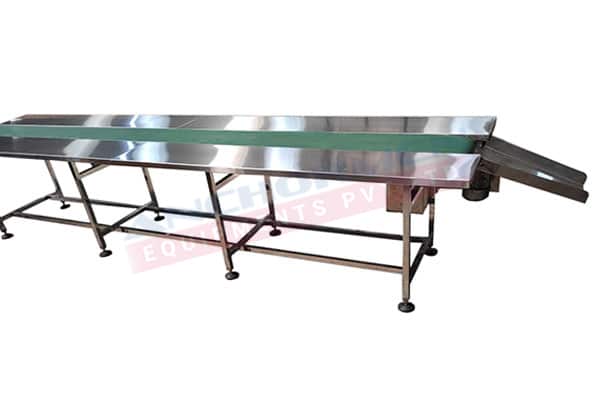 At Anchormen, we place a strong emphasis on increasing the Ease of Doing Business Index with each passing day by merging technology and a dedicated Customer Service Team that works tirelessly to eliminate all pain points for our customers and stakeholders while working toward a single goal. The equipment is built of a variety of raw materials such as Nylon, P.U., Silicon, and Teflon, all of which are sourced from reputable foundries and have superior tensile strength, lifespan, and durability.