Homo Cum Vacuum Mixer Manufacturer in India
The qualities that differentiate Anchormen Equipment's Homo Cum Vacuum mixer from other production equipment includes, At the bottom of the driving shaft, inside a circular cowling, is a specially constructed impeller. The machine's impeller mixing speed is at its maximum. The machine is meant to be wall mounted and floor fixed. Using a cylinder powered by compressed air. Ensures a consistent mix. While the vacuum removes air from the product, the mixer allows for dispersion, mixing, homogenising, and emulsifying. the device It takes up very little room on the floor. When a gel transfer tank is brought into place, the mixing head smoothly slides up and down to the proper position. The Vacuum Mixer's mixing system is made up of a counter-rotating paddle agitator and an internal homogenizer. The counter paddle revolves in a clockwise manner while the gate-type agitator rotates in an anti-clockwise direction, disrupting the typically circular flow pattern and dampening vortex development. Paddle blades are pitched to encourage top-to-bottom flow.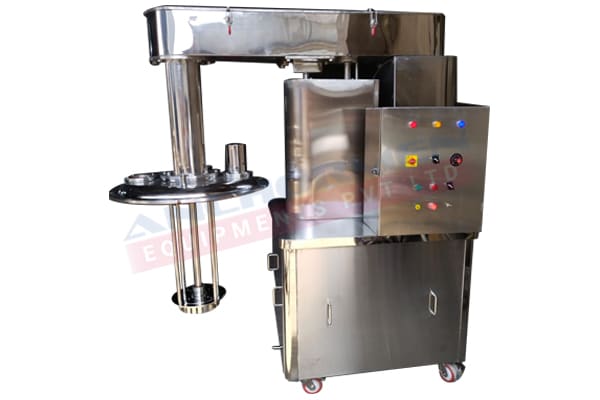 Adjustable scrapers are also used to prevent a stagnant film from forming between the agitator and the vessel, as well as to ensure effective heat transfer to the product throughout the heating and cooling processes. The agitator and counter paddle speeds may be adjusted individually. At Anchormen Equipment, we take great care with our end outcomes since they are what drive us to the top of our business. Quality and client happiness are our guiding ideals, and we do not compromise on either. Our team of experienced engineers assists the organisation in providing the greatest innovation to the company. We at Anchormen Equipment's constantly desire to provide innovation and new inventions to our machinery. We also design equipment to our client's specifications, guaranteeing that they receive the design and quality they desire. Not only do we modify, but we also assist our clients in defining their requirements, making it simple for them to make changes as needed.