We are the topmost leading High Speed Stirrer small model Manufacturer, Supplier in Ahmedabad, Gujarat, India
Anchormen Equipment's high-speed small stirrers are the most sought-after Stirrers or Agitating Stirrers on the market today. Anchormen is one of the few firms that can provide high-quality High-Speed Stirrers or Industrial Stirrers with best-in-class features at a very low cost. Our Small Stirrers are used in a wide range of sectors, including chemical, ink, paint, food processing, drinks, pharmaceuticals, cosmetics, sanitary applications, and a number of other small-scale businesses. A standard stirrer has a base frame, shaft, impellers, motor, optional gearbox, electricals, and a raising and lowering mechanism. These machines mix, emulsify, blend, or consolidate two or more ingredients into a single entity by completely combining any solids or liquids required to make a final product or intermediate product. We carry biohazard, heavy-duty, and long-lasting equipment at Anchormen Equipment's.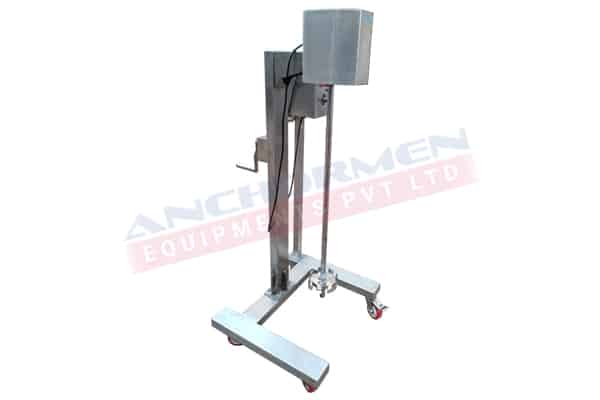 Stirrers are excellent for mixing low to moderately viscosity materials at the various speeds required by the process. Mixers, stirrers, and agitating mixers are some of the various names for this equipment. With less investment in gear, a higher level of mixing, premixing, dispersing, emulsifying, homogenising, and other processes may be achieved. Anchormen's tiny stirrer machines are made from a range of materials, including Mild Steel and Stainless Steel in various grades, according to the client's process needs. Our Small Stirrers provide unrivaled quality and performance due to accurately calculated torque, impeller rotations, vessel dimensions, type and size of impellers, shafts, and other factors. Because we at Anchormen Equipment provide every product in explosion-resistant alternatives, all of our small stirrer models are safe.