High speed Stirrer Big Model – High Speed Stirrer Manufacturer in India by Anchormen Equipment's Pvt Ltd.
Anchormen Equipment's provides a High-Speed Stirrer Mixer that may be utilised in a variety of applications. This precision-constructed machinery is perfect for stirring and mixing liquids and semi-liquid items and is made from high-grade raw materials. These are widely used in the pharmaceutical and chemical industries because they are dimensionally exact, low-maintenance, rust-free, and long-lasting. The simple to run machinery is also modified to the client's specifications. Some of the amazing qualities are what distinguishes this equipment from others. The equipment offers low maintenance costs and does not need to be checked on a regular basis, among other characteristics. It has a long lifespan, and one of the main features that distinguishes our design is that it is damage-resistant. We are a reputable company that specialises in meeting a wide range of customer needs by offering high-quality Machineries.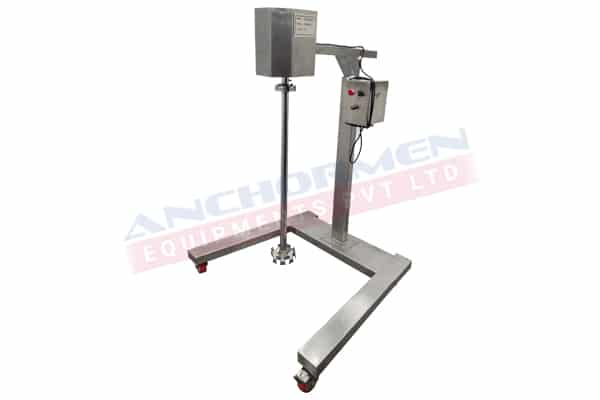 Our suppliers construct these equipment's in accordance with industry-established quality standards. The raw materials used in the production process are sourced from the industry's most dependable suppliers. This precision-machined mixing work head gives any machine the ability to conduct a wide range of mixing operations. When compared to traditional agitators and mixers, the Anchormen's extremely fast mixing action significantly lowers process times. We are very careful about our final results at Anchormen Equipments since it is what propels us to the top of our industry. Our key principles are quality and client satisfaction, and we don't skimp on either. We also customise machines to meet the needs of our customers, ensuring that they get the design and product they want. We not only personalise, but also assist our clients in designing their needs, making it easy for them to make modifications as needed.