One of the best Drying Tray and Trolley Manufacturers in Ahmedabad.
A tray dryer is an enclosed insulated chamber where trays are stacked on trolleys on top of each other. In sectors such as chemicals, dyes, pharmaceuticals, food products, and colours, tray dryers are employed where heating and drying are critical aspects of the manufacturing process. Food grade drying trays from Anchormen Equipment's are stackable and may be used for a number of food handling applications. The open design allows for free ventilation and optimal product air contact. Ribbing provides stability, allowing loads of tray to be carried without deflection. The trays are composed of food-grade high density polyethylene (HDPE), a robust and durable material that can be used for both freezing and non-freezing applications. Anchormen Equipment's' drying trays and trolleys have distinctive features, and the quality and core of the product is what sets it different from other manufacturing businesses.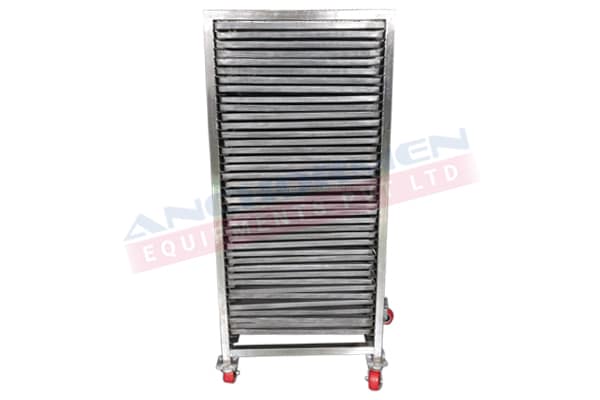 This method is useful for lowering local flour concentrations while simultaneously enhancing heat transmission. The ideal sort of tray dryer is one with directed circulation. The air in these dryers is heated and then focussed in a regulated flow on the item. Every shelf receives a finite amount of heat when the wind blows over it, providing the latent heat of vaporization. This type of drier allows for precise humidity and temperature control. The advantages of Anchormen Equipment's' drying trays and trolleys are that each batch is handled separately, which makes it more hygienic and less messy. In terms of fuel usage, the machine is more efficient. The machine is run in batches. It's easy to use, and it prevents the bottom trays from drying up too quickly. Because the machine is made with a lot of technology and practically everything is automated, it requires minimal labour, which is limited to loading and unloading.