India's leading manufacturers and suppliers of Pharmaceutical Blender and Equipment in Ahmedabad
For contract toll blending and powder mixing, Anchormen Equipment's provides a wide range of blenders. As a result, we as manufacturers can handle practically every sort of material in a variety of sectors. To make a uniform solution, combine the dry components in an exact ratio. The technique of combining dry materials to generate a well-mixed dry product is known as dry blending. If desired, a tiny, regulated amount of liquid can also be efficiently added to a mix. Some Pharmaceutical Blender Manufacturers contain temperature controls that can heat the liquid stream that is introduced to the bed for more sophisticated blending applications. We are Ahmedabad India based leading Manufacturer of Pharmaceutical Equipment, Pharmaceutical Blender, Pharmaceutical Machine, Mass Mixer. Temperature-controlled blenders can also be used to heat the powder bed.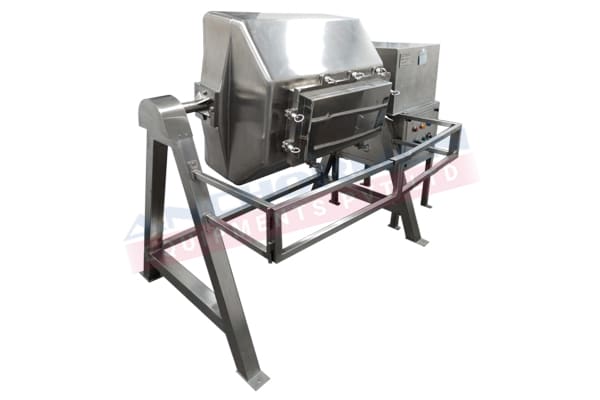 At Anchormen Equipment, we offer a variety of wedge types available to load and unload items that require particular treatment. We can handle most materials with a variety of settings because of the several blender choices offered.
Anchormen Equipment's is a producer that specialises in mixing food-grade and industrial liquids. The technique of mixing liquid or dry feed material into a liquid slurry is known as liquid blending. For food grade and industrial liquid mixing, there are many tanks available. These tanks allow the user to turn a heterogeneous product into a homogenous one. To disperse a component into a continuous product that would otherwise be immiscible, high-shear mixing can be used. HMI (Human Machine Interface) panels with a programmable logic controller are available on certain machines, providing insight into the mixing process as well as data gathering points. For liquid blending, liquefying is another alternative. By producing a vortex within the equipment, the liquefier helps the substance dissolve and spread quickly and thoroughly. Another alternative is jet cooking, which creates high-shear stress that combines the liquid slurry and the two ingredients into a pressured mixture. Anchormen Equipment personalises various types of machinery to our clients' requirements in order to meet their demands and wishes.